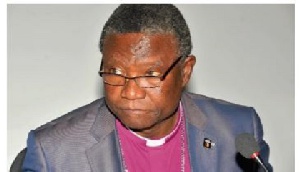 The Free Senior High School policy introduced by the Nana Akufo-Addo-led government is good but should not compromise on quality education, Chairman of the National Peace Council, Rev Prof Emmanuel Asante has said.
The Free SHS was a flagship campaign promise by President Nana Akufo-Addo, then an opposition candidate for the New Patriotic Party (NPP).

Shortly after winning the 2016 polls, he implemented the policy, which absorbed all fees approved by the Ghana Education Service Council for first-year students in public schools.

In addition to this, the students are provided with free textbooks and one meal a day for day students.
Critics of the government especially the main opposition National Democratic Congress (NDC) have kicked against the policy.

The NDC believes the policy should have been progressively free which would cover the entire system and not what the NPP government did by starting with the first years alone leaving out the form twos and threes. The party is also of the opinion that the necessary infrastructure should have been built before its implementation on a full scale.

Speaking in an exclusive interview with Benjamin Akakpo on the Executive Breakfast Show (EBS) on Class91.3FM on Thursday, 28 February 2019, Prof Asante said: "The free education is a very good thing. My only concern is that it should not compromise quality education and that means that investments should be made to ensure that it is free but it is also qualitative. I hope that the proper infrastructure will come to back it up."