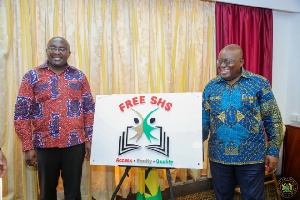 The Ghana National Education Campaign Coalition(GNECC) has reiterated government alone cannot shoulder the burden of funding second-cycle education urging it to look at tweaking the current system to allow other sources of funding.
"For us sustainability is still an issue", said the National Coordinator of the Ghana National Education Campaign Coalition (GNECC), Ms Veronica Dzeagu in respect of the government's flagship programme- Free SHS policy.

In an interaction with host Kweku Owusu Adjei on Anopa Kasapa on Kasapa 102.5 FM, Ms Veronica Dzeagu intimated that indeed there are some contributions from parents, but this is an ad hoc mechanism that cannot be completely relied on.

"The onus still lies on government to make sure that we have a sustainable funding channel. Eventhough when we met we made all these recommendations, the core issue of sustainability is still in question; so are we going to maintain Oil funding as the main means of funding this or we are looking at other areas."

Nonetheless, she told Kasapa 102.5 fm that it appears government is open to suggestions following the last meting it held with the policy makers.

She added: "Education is such that government alone cannot take decisions, eventhough it has the primary responsibility- The more you consult stakeholders, the better; because parents have a very key role to play. So in whatever you're doing make sure you engage them at a certain level to be able to sustain whatever policy you're bringing to the sector and then you have other people contributing one way or the other. We all have a role to play to make sure it's effective and achieves the aim for which it was introduced," she said.
Meanwhile, the Minister for Education, Dr. Matthew Opoku Prempeh, has said the decision by the Akufo-Addo led government to spend the country's oil revenues on "Free Senior High School education is a better investment than anything the country can dream of."

Speaking at the Bolgatanga Senior High School on Tuesday, 13th August, 2019, as part of President Akufo-Addo's 2-day tour of the Upper East Region, he noted that even before the implementation of the Free SHS policy, the President ensured that the capitation grant for basic schools was increased from GH¢4.50 that had existed in 2009 to GH¢9 in 2017.

As a result of these interventions, the Education Minister indicated that there a record number of students currently in Senior High Schools across the country.

"Like I said between 2014 and 2016, the total population in all schools in the country, was about 800, 000 students. As we speak the total population in our schools is about 800,000 discounting the first years who have not yet even come in," the Minister added.