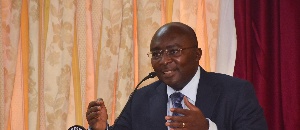 The Vice President Dr Mahamudu Bawumia has noted that the implementation of the Free Senior High School (SHS) Policy is to help build the required human capital needed for the growth of the economy.
He said the building of quality human capital remained key to the economic growth and prosperity of every nation.

He said it was incumbent on governments of developing countries to pay attention to education and quality delivery to build the needed human capital.

Dr Bawumia was speaking as the Special Guest of Honour at the 87th Speech and prize-giving Day celebration of the St Augustine's College in Cape Coast.

The anniversary celebration which was on the theme: "Raising ethical leaders for nation building: the pivotal role of students," brought together people from all walks of life including eminent old boys, present students and staff, parents and other distinguished personalities from across the country.

President Akufo-Addo early this year announced that his government would fully implement the free SHS policy from September.
But his declaration has been met with tough criticisms from a section of the public and other groups including a policy Think Tank, IMANI Ghana which opined that the much hyped free SHS policy was likely to face some setbacks.

However, Dr Bawumia believed that the policy was an opportunity to improve upon the human capital base of the country.

The Vice President said in as much as the Government was committed to building good quality human capital for growth, it was also putting in place measures to ensure that there were jobs available.

He said creating jobs for the youth was necessary to prevent them from indulging in deviant, unethical and criminal behaviors.

Dr Bawumia said Government was initiating a comprehensive teacher motivation programme, which included affordable housing schemes and training opportunities for teachers to meet the required demands of modern day teaching.
He also reiterated that the Teacher Trainee allowance would be fully restored in September.

Speaking on the theme, the Guest Speaker for the occasion, Professor Francis Ofei, Dean, School of Medical Science, University of Cape Coast, said Ghana needed to make some compromises to involve the youth in key national issues in order to have the desired leaders.

He said there was the need for the country to make conscious efforts to strengthen confidence in the youth and in doing so help them to adhere to ethical practices.

Prof Ofei suggested that it was about time the nation must start focusing on correctional activities rather than get tough approach that relied on punishment as research had shown that such approach often dampen the confidence and spirits of students.