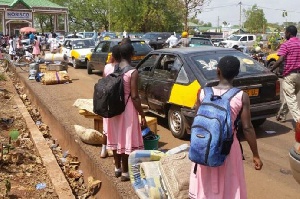 The Registrar of the Ghana Scholarship Secretariat, Kingsley Agyeman, has assured many parents in the Northern Region that the free SHS policy would not replace the Northern Scholarship.
In an interaction with representatives of various schools in the Northern Region, he said the free SHS policy would not abolish the Northern Scholarship for continuing students.

According to him, the continuing students will receive their claims.

Since its inception, over 5,000 Ghanaians have benefited from the scholarship at both secondary and tertiary levels.

The Northern Ghana Scholarship was established to close the educational gap between the northern and southern parts of the country in terms of education.

The President Akufo-Addo, during the 2016 elections, promised to make Senior High School education free and accessible to every Ghanaian child who qualifies.

In fulfillment of his campaign promise, President Akufo-Addo successfully launched the free SHS programme on 31st August 2017 to kick-start the programme during the September 2017/2018 academic year to provide free senior high education to all prospective students.
The programme has subsequently been placed under the Ghana Scholarship Secretariat and has undergone some structural adjustment to boost its operations.

Mr Agyeman indicated that the Secretariat has introduced a computerized system of claims payment and application.

The new system will ensure direct transfer of funds into the accounts of beneficiary institutions and also to ensure prompt payment of claims to avoid delays and the situation whereby students will have to travel to Accra for their claims.

He stated that only items such as exercise books, P.E kits, textbooks, supplementary reading books, technical drawing instruments, and drawing boards will be purchased through a centralized procurement system to allow government to get the items at reduced prices because of their quantity.

However, items such as school uniforms, house dresses, food supplies and others would be purchased by school authorities.

"I assure that the Northern Scholarship for continuing students won't be replaced with the free SHS policy, students will still enjoy their benefits."