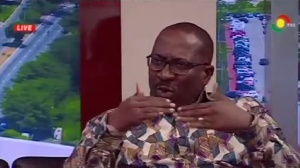 Wed, 15 Feb 2017 Source: GhanaWeb
Manager of Citi FM, has refuted claims by a section of the public; especially members of the opposition who have doubted the implementation of the Free SHS policy by President Akufo-Addo and are of the view that the country has no resources to support it.
Samuel Atta-Mensah explained that the country wastes lots of resources on buying V8 for officials who do not need them.

"We need to respect ourselves as a people. First of all stop the four wheel drive purchasing, even if we need to buy we can get a stronger one for a cheaper price…Under PNDC what four wheel drives were they using?"

He made this point when he served as a panel member on New Day on Tv3 in reaction to the brouhaha surrounding the missing 200 state cars.

He was disgusted at the rate at which government appointees are quick to buy off state vehicles at cheap prices, resulting in the constant purchase of vehicles at exorbitant prices by the state.

President Akufo-Addo last week announced the commencement of the free education at the senior high school level from the 2017/2018 academic year.

Subsequently, Senior Minister, Osafo-Marfo, hinted that government may take revenue accruing in the Heritage Fund to the policy.
Government's decision to consider using revenue from the Heritage hasn't gone down well with some people.

The issue of funding has left many to doubt its feasibility.

The Citi FM manager, also questioned the rationale behind providing fuel for government functionaries at high cost to the state. According to him such cost shouldn't be the burden of the state.

He has, therefore, advised Ministers and all political leaders to respect themselves and to put an end to drying up the national coffers through their expensive lifestyle so the country can save money to champion development projects such as the free SHS policy.

"This whole thing about V8 mentality, it will kill us. Everybody wants a V8 and some of them they have two, three and they are using it in Accra. What is that? And it cost so much. Not even one of them is costing us less than a hundred thousand dollars ($100,000) and in some ministries they have up to ten. What do we need that for? And then the same people turn round to tell us free education is not possible. It is possible if u stop buying the V8."


Source: GhanaWeb