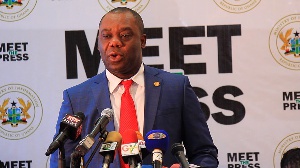 The Free Senior High School (SHS) policy introduced by the New Patriotic Party (NPP) government will remain for all SHS students, Education Minister Dr Mathew Opoku Prempeh, has observed.
According to Dr Prempeh, it is true that some parents want to pay the fees of their children, however, government will not back down on making secondary education free-for-all until every child who qualifies for SHS is enrolled in a school.

"It is not up to me to decide who is rich and who is poor, my main aim is to make sure that no matter the child, that child should not suffer anything that will be a stumbling block… This is not the time, when every Ghanaian child is in school we can have the luxury of deciding who is rich and who is poor and using the discriminatory methods perfectly," the Member of Parliament (MP) for Manhyia South Constituency said in an interaction with the media on Tuesday, 7 August 2018.

Finance Minister Ken Ofori-Atta had suggested that the policy should be selective.

Mr Ofori-Atta, speaking on Citi TV, said: "I don't think it [Free SHS] is something any of us can compromise on", adding that: "It may be that there have to be changed in the way in which we are administering it".

"I can't take my child to Achimota or Odorgonno and then leave him or her and drive away and Ken Ofori-Atta not pay anything while I can pay for 10 people. … You need to get the data to then be discriminatory in how and who pays and who doesn't pay", he said.
Speaking about the next academic year, he said: "You actually going to have, maybe, 180,000 more people but it's so important, you'd rather make that mistake – if it is a mistake – to get everybody in the system for the nation to then begin to have a conversation and say: 'OK, this is good for us because we want that human capital and to a certain level, but maybe let's begin to adjust it this way'".



He was backed by former Rector of the Ghana Institute of Management and Public Administration (GIMPA), Professor Stephen Adei, who said the Free SHS must be implemented discriminatorily so that those who have the means pay for their children's second-cycle education.

Reacting to these comments on Class91.3FM Tuesday, 24 July 2018, Prof Adei said: "The only thing is that it is difficult to assess the income of people in Ghana, apart from those in formal employment.

"It makes sense but it is not going to be easy to implement such a suggestion. If you are not careful, you will find out that a few higher income-earning people [on] whose salary, taxes have been increased, are going to be the same persons who will fall into that bracket.
"It is a dicey issue; I don't see why a billionaire should be having their children go to school for free."

However, the Education Minister insists that the suggestions by the two individuals cannot be implemented immediately and government will continue to roll out the Free SHS for every child in secondary school.