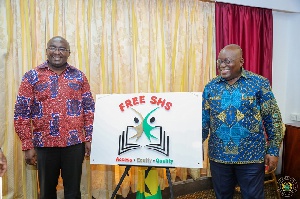 The Ghana Education Service has finally released the list of heads of Senior High Schools who have been sanctioned for charging unapproved fees contrary to directives from the service.
All 11 were slapped with sanctions by the Ghana Education Service (GES) Council after they were found to have charged unapproved fees in the wake of the implementation of the free SHS by the government.

Two of such heads have summarily been dismissed while the rest are on interdiction and will be investigated to establish their culpability in the allegations or otherwise.

Background

A total of about 400,000 graduates from various Junior High Schools from across the country have been earmarked to benefit from the flagship programme which was a major campaign message of the ruling New Patriotic Party (NPP)
It is estimated to cost government about $100 million out of which 25% has already been paid into the account of the implementing schools with a promise by the education ministry to address the challenges associated with it.