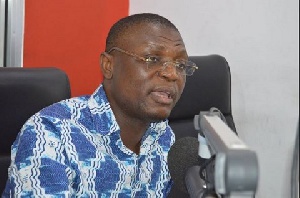 National Organiser of the opposition National Democratic Congress (NDC), Kofi Adams has disclosed a future government of the NDC will ensure quality is attached to the Free S.H.S policy rolled out by the government of the New Patriotic Party.
According to Kofi Adams, the Free SHS is a laudable policy that must applaud by Ghanaians across the country.

The former campaign manager for the NDC in the lead to the 2016 polls was speaking to host of Abusua Nkommo, Kwame Adinkra.

Kofi Adams argues, he, however, would have preferred the Free S.H.S program was beneficial to both first, second and third year Senior High School (SHS) students.

"Kwame, the Free S.H.S is a laudable policy and whoever will openly say he or she doesn't support this free SHS policy is unpatriotic because the policy is a good one," he stated.
"When voted into power, we will put in place measures to make the policy a long-lasting one that will benefit every Ghanaian at all levels of the senior high education."

"There should be some quality attached to the free. The policy should benefit all including continuing students. It shouldn't be free only for freshers but to all. If possible, needy but brilliant students should have some privileges as well," Kofi Adams emphasized.

'I am saying we will pay particular attention to it because the policy is similar to the NDC's progressively free education policy."