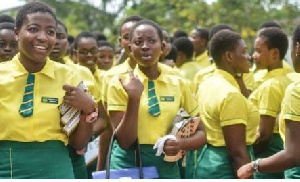 Tue, 28 Feb 2017 Source: Enerst Lartey
The National Secretary of the Ghana National Association of Private Schools, Mr. Justice King Essel is appealing to government to include Private Schools in the free Senior High School program to be rolled out in September this year.
In an exclusive interview with GHONE News, he indicate that the free SHS program will be run by tax payers' money which the private sector also contributes thus government must inject money into Private Schools to keep them afloat as a demonstration that it cares about the Private sector.

"Government must see private school's role in the education system as complimentary. We help the private sector to provide good education to our citizens. In any case the free SHS program will be run by the tax payers' money which the private sector also contributes. So it will unfair for some to enjoy free SHS whiles others pay for tuition. That is why government must give money to private schools from time to time to support them. As for how the private schools decide to use that money, it is their business."

According to him, Private Schools in the country continues to complement the public sector in providing good education to students thus government neglect of Private schools in the free SHS will not only amount to a huge lapse in the education system but will also jeopardize the future of Private Schools in the country.
In his opinion, if the free SHS is not regulated, quality of education will be compromised in attempt to expand access. Though, he acknowledged that the free SHS policy is a good initiative, he observed that it should have been coordinated in a manner that makes only needy but brilliant students to be enrolled onto the program. He said the current trend will burden the program as more people will go to school without any genuine end goal in mind.

Mr. Essel further indicated that many private schools will experience low enrolment when the free SHS program starts but was very optimistic that if they stake to their qualitative teaching, they will be competitive enough to stay in business.

He called on government to partner the Private Sector in providing quality education to all children of school-going age while sustaining the private schools which are also a means of employment to many Ghanaians.
Source: Enerst Lartey