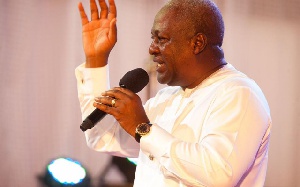 Tue, 8 Nov 2016 Source: GNA
President John Dramani Mahama has given firm assurance that Ghana is not going to implode and that next month's general elections would be peaceful and successful.
He said the security agencies had been provided with everything they needed to efficiently perform – ensure adequate security protection for everybody and to swiftly respond to an ugly incident likely to mar or undermine the credibility of the polls.

He was addressing the chiefs and people of Tepa in the Ahafo-Ano North constituency, as part of his four-day election campaign tour to woo voters in the Ashanti Region.

President Mahama stated that the nation had won admiration for its democracy and underlined the government's determination to protect the strong progress made over the last two decades.

He warned that anybody out there to foment trouble would be neutralized.

He told the crowd that he was confident, voters would renew his mandate to lead the country for another four-year term.

The people were going to reward the governing National Democratic Congress (NDC) with their votes for bringing development to them.
He announced that the government had built about 1,600 community-based health planning and services (CHPS) compounds, nationwide, alongside the construction of district hospitals and a 500-bed military hospital at Afari near Kumasi.

He also spoke of job opportunities created under the National Youth Employment Programme, saying, more than 50,000 had been engaged.

Added to these, was the improvement of roads leading to the cocoa growing areas under the cocoa roads rehabilitation project.

President Mahama said on the account of the good work done, his party was targeting a win of between 54 and 57 per cent of votes in the presidential polls, while claiming as many parliamentary seats as possible.

Nana Atwenewaa Ampem, Omanhene of Tepa, advised the youth to refuse to be part of any evil agenda to cause confusion.

President Mahama had earlier held election campaign rallies at Adansi-Asokwa, Adansi-Anhwiaso, Obuasi, Kunsu and Nyinahin.
Source: GNA