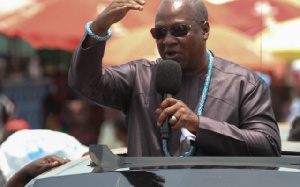 Ghana is leading the United States of America as far as the development of social-economic infrastructure is concerned, President John Mahama has said.
Mr Mahama, who is campaigning in the Upper West Region ahead of the 7 December polls said the two leading candidates in the just-ended American presidential election – Hillary Clinton and Donald Trump – promised to sink a lot of investment into infrastructural development during their campaigns.

"The American elections have just ended. Both candidates, a central plank of their economic policy is to invest massively in social and economic infrastructure. And if we have started that in Ghana already, it means we are one step ahead of the United States," Mr Mahama told party supporters.

He said the two candidates made those promises "because, investing in social and economic infrastructure creates jobs and puts food on the table for Ghanaians."
"When you are building roads, the people who work on the roads are Ghanaians and they are being paid and they are feeding their families.

"And the good thing is today as I speak to you, 95 percent of road contractors working in Ghana on our roads are Ghanaians. It means that the money that we are paying to them is ending up in this economy its circulating within the economy."

Mr Mahama recently inaugurated a 74-million euro flyover at the Kwame Nkrumah Circle and a boxing complex at Bukom in Jamestown, both in the Greater Accra Region.