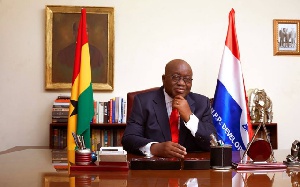 Thu, 16 Feb 2017 Source: GNA
A cross section of Ghanaians have commended President Nana Addo Dankwa Akufo-Addo, for the free Senior High School (SHS) that would commence in the next academic year in September.
They indicated that the move would give brilliant but needy students the opportunity to gain admission into high schools after graduating from the junior high schools.

Mr Charles Richard, a trader said: "The policy is good because I know one man who could not pay the fees of his two children last year, and this may be happening across the country."

He called on the government to release the funds to the Education Ministry in time to support the free SHS.

Madam Amina Bawa, a trader at Sowutuom said the free SHS would prevent the frequent media reports of students in boarding schools in the Northern Region, who were sometimes left at home because government had not pay their feeding fees whilst their mates elsewhere were studying.

Mr George Addo, a trotro driver advised the government to increase the number of trainee teachers to be able to teach the high number of students who would be churned out from the free SHS system.
"The free SHS is good but more teachers will also be needed to teach the rising number of students in the schools," he stressed.

President Nana Addo Dankwa Akufo-Addo in a speech he delivered at the 60th Anniversary celebration of Okuapeman School where he was the Special Guest of Honour indicated that his government would fund the cost of public SHS for all those who qualify for entry from the 2017/2018 academic year onwards.

He explained there would be no fees for admission, library, science centres, computer labs, examination and for utility services.

President Akufo-Addo added that, in addition to the tuition fee, which was already free, there would be free textbooks, free boarding and meals. Day students will also get free meals.
Source: GNA