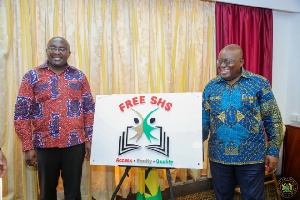 A lecturer with Planning Department of the Kwame Nkrumah University of Science and Technology (KNUST), Dr Stephen Takyi has suggested that not every Junior High School (JHS) graduate shoul be allowed to benefit from the government's flagship program, free Senior High School (SHS).
"Children whose parents honour their tax obligation to the government must be allowed to enjoy free education", he spoke on Kumasi-based Otec FM morning show monitored by MyNewsGh.com.

According to the planner, if this becomes the modality before children will benefit from the flagship policy, parents and guardians will pay their taxes to enable the government also raise revenue to finance the collapsing policy.

"By this parents will ensure that they do what is right so their children benefit", Dr. Stephen Takyi pointed out to host, Agya Wusu Ansah during panel discussion.

Many Ghanaians including some academics have raised concerns on the free SHS policy and drawn the attention of the government to the challenges which hinge on infrastructure.
In 2018, the Free SHS programme was able to enroll almost 400,000 students onto the 'double track' system, a number that exceeded the normal intake capacity of the schools.

Currently, the programme is running on a shift system known as 'double-track' school calendar system. The new programme creates a calendar of two semesters in a year for the SHS 1 class containing 81 days per each semester and 41 days of vacation for a sandwich class. Some students belonging to a particular track stay home for two months while the other track remains in school – typically different from the three terms the country has known for years

The situation is expected to end in some years after the government is able to provide enough infrastructure and other teaching and learning materials for the schools that run on the double track system.

Government has said the double track is to absorb more students who hitherto would not have had access to senior high school education for lack of adequate logistics.