Politics Sun, 21 Oct 2018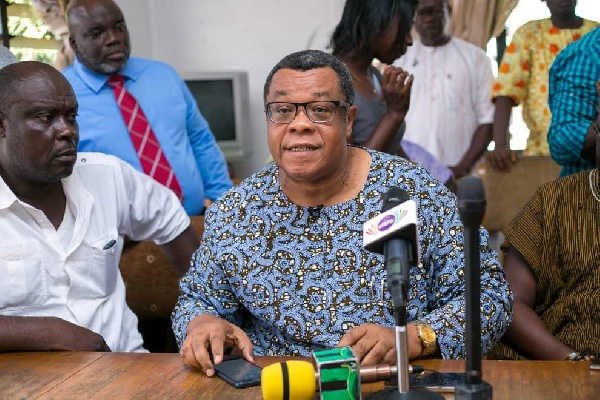 The campaign team of National Democratic Congress (NDC) presidential hopeful, Augustus Goosie Tanoh, has rubbished reports suggesting that he has tagged members of the party as corrupt during his campaign trail.
According to the team, the Today Newspaper and MyNewsgh.com, had published articles that sought to create the impression that the presidential hopeful had chided Mahama and other members of the party in the most unpalatable manner.

The campaign team, however, described the reports as "fabrications and twisted truths"

Today Newspaper in its October 17th edition published a story with a headline; GOOSIE TEARS MAHAMA APART.

Also, an online news portal, MyNewsgh.Com on October 19th published a story under the headline; MAHAMA'S NONSENSE GOVERNMENT WAS A SCANDAL INCUBATOR.

The story, among others, read "The 11th flagbearership aspirant of the opposition National Democratic Congress (NDC) has said under the government of former President John Mahama, every single NDC member was perceived to be corrupt because of the many scandals recorded under Mahama, MyNewsGH.com reported."
However, Mr. Tanoh's team has indicated that it is focused on discussing pertinent issues rather than attacking personalities within the party.

"Goosie Tanoh's campaign is focused on issues. We do not hurl insults nor focus on personalities"

The campaign team directs the public to view the truth in a video they indicate is the source of the 'twisted truth," the team said in a tweet.

The team clarified that Mr. Tanoh during a question and answer session at his campaign only admonished some students not to entertain corruption no matter where it comes from.

He stressed that "If the people of Ghana begin to believe that we truly believe in probity and accountability, that we are willing to hold our leaders accountable, we are willing to discipline them, we will gradually, slowly regain their trust, and they will not call us thieves any more"
The team said Mr. Tanoh at no point, before, during and after his presentation tagged NDC members as corrupt.

The team further urged the public especially members of the opposition NDC party to disregard the said stories.

Goosie Tanoh launches campaign in Volta Region

Mr.Augustus Tanoh on Wednesday October 13, 2018, launched his campaign in the Volta Region.

Launching it Anloga, he called on party supporters to rally behind him to reorganize the NDC and restore voluntarism, participatory decision-making, integrity, and transparency.
Upon entering the Volta region for his campaign, he paid a courtsey call on the Awoemefia of the Anlo state as part of activities to kick-start his campaign.

He was accompanied by delegates, polling station executives, and constituency executives.

Goosie Tanoh is one of the over 12 aspirants including former President John Dramani Mahama, who is hoping to become the next flagbearer for the biggest opposition party going into the 2020 elections.