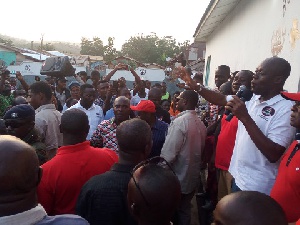 Thu, 10 Nov 2016 Source: Maxwell Okamafo Addo
Government is constructing another gas processing plant in the Prestea area as part of a grand plan geared towards the revival of the Abosso glass factory.
President Mahama has also directed the Ghana Ports and Harbours Authority, GPHA, to work closely with the Ghana Railways Company Ltd for the revamping of the railway sector.

The Board Chairman of the GPHA and Vice Chairman of the NDC, Samuel Ofosu Ampofo announced this Tarkwa when he addressed hundreds of NDC supporters.

Vice President Kwesi Amissah-Arthur said the ruling government is serious about job creation and all these projects and programmes are testament to the resolve and importance President Mahama attaches to the creation of jobs for the youth.

Hundreds of the NDC supporters gathered from the morning into the night waiting for the Vice President and his campaign entourage.
He received a rapturous welcome in Tarkwa. Several speakers emphasised the need to vote massively for President Mahama and the Parliamentary candidate for Tarkwa-Nsuaem, Seth Kwame Djokoto.

Vice President Amissah-Arthur appealed to the people to vote for Mr. Djokoto based on what he can do for the constituency and not where he comes from.

He said he has distinguished himself professionally and has also built the necessary political connections to open the doors of development for the constituency.

The Vice Chairman and Director of Elections of the NDC, Samuel Ofosu Ampofo said it is not for nothing that the party wants Ghanaians to renew President Mahama's mandate for another four years not for the sake of it. But it is because President Mahama has begun what he called progressive development in all facet of Ghanaian life.
Source: Maxwell Okamafo Addo