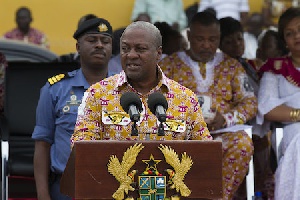 President John Mahama has hinted of an elaborate plan by his government towards revamping oil palm production in Ghana.
The plan includes the establishment of an Oil Palm Regulatory Board to promote and regulate investment in the sector, he noted.

Speaking at the climax of this year's Deza (Oil Palm) festival of the chiefs and people of Dzodze in the Ketu North district of the Volta region on Saturday, President Mahama announced the approval of a draft bill by cabinet in September for the setting up of Oil Palm Regulatory Board.

"In preparation for the investment we are going to do in oil palm, last month cabinet passed the oil palm regulatory board [bill] to be put before parliament in October. When parliament passes the Act, a board will be set up and it will be responsible for driving investment in that sector," he stated.

According to him, the board when established will assist small and large holder farmers in the cultivation of oil palm plantations in Dzodze and other parts of the country.
"Assistance is going to be given for the establishment of plantations, like the 50-acre plant you intend to develop but other small holders will also be assisted to not only establish the plantation but also to look after the plantation."

The President also commended the chiefs of Dzodze for allocating 50 acres of land for an oil palm plantation, and hinted of government's intention to set up oil palm processing plants in the area and other parts of the country to boost socio-economic benefits of the industry.

Accompanying the President to the 15th edition of Deza, were the Speaker of Parliament, Edward Doe-Adjaho, Health minister, Alex Segbefia, Deputy Volta regional minister, Francis Ganyaglo and a host of MDCEs and NDC functionaries from the Volta region.

The vice presidential candidate of NPP, Dr. Mahamudu Bawumia was also present at the festival themed "Bringing people together for peace and development."