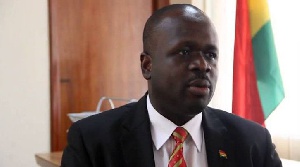 The current Mahama administration has begun using sugarcoated words to convince Ghanaians to retain it in office in the December polls.
In 2008 and 2012, the NDC administration announced that it would not impose taxes on Ghanaians.

But ever since the ruling National Democratic Congress (NDC) assumed office, it has imposed over 20 taxes on various items, including condoms and cutlasses.

It also shelved plans to introduce the 1 percent withholding tax on interest earned on individual investments after public outcry.

Dr Omane Boamah, Communications Minister, who gave the promise recently in an interview with Joy Fm in Accra, said, "You realise that in this manifesto, we haven't spoken of increasing any tax."

He added that instead of increasing taxes, government would find new ways of widening the tax net to bring in new taxpayers.
Dr Boamah's pronouncements form part of measures to counteract promises being made by the New Patriotic Party (NPP) that it would reduce some existing taxes and possibly abolish others.

The largest opposition party has repeatedly criticized the Mahama administration for overtaxing Ghanaians, mismanaging the economy and increasing the country's debt stock.

Corruption everywhere

The opposition has also accused government of being overly corrupt.

In an interview with the BBC in May, this year on the sidelines of an anti-corruption summit that took place in London, President Mahama said his administration was committed to tackling corruption.
However, months later it turned out that a Burkinabe contractor had allegedly bribed President Mahama.

Gov't parries tax accusations

Seth Terkper, Minister of Finance, yesterday sarcastically stated that he does not love imposing taxes on Ghanaians and that some of the taxes would be abolished in three years' time.

"We will phase out some of the new taxes by three years' time. GH¢1 billion will be lost if government removed the new taxes."

Failure
The Ghana Integrity Initiative (GII) said government had failed to prosecute many public officials found to have engaged in corrupt activities.

Executive Director of GII, Linda Ofori-Kwafo, indicated that Ghana should attach importance to the fight against corruption.

"We have not done very well…Ghana has a good number of legislations that are necessary in fighting corruption…but when it comes to the enforcement of the law to actually help us to make some gains, Ghana is still not seen to be playing much and that is a fact that nobody can run away from," she told Citi Fm.

High debt

Government increased the country's debts to GH¢110 billion as at end of August, this year.
Out of this colossal debt, GH¢101 billion has been borrowed by the ruling National Democratic Congress (NDC) between 2009 and now.

When the New Patriotic Party (NPP) was leaving office, the country's debt stock was GH¢9.5 billion.