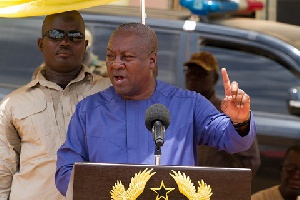 Tue, 1 Nov 2016 Source: GNA
President John Dramani Mahama on Tuesday announced that government has acquired 10,000 hectares of land to resettle livestock farmers around the Afram plains.
He said apart from solving the issue of farmland destruction by the Fulani cattle herdsmen, the resettlement would also give an opportunity to owners to easily take stock of their animals.

President Mahama announced this at Sempoa, farming and fishing community in the Abetifi constituency as part of his two-day campaign tour of the Eastern Region.

Sempoa community is part of the Kwahu side of Afram Plains, where farms are perennially destroyed by cattle, creating rancour and bitterness between the farmers and owners of the animals.

Resettlement of the livestock farmers, President Mahama said would reduce the tension that had over the years been built between the farmers and owners.

President Mahama said as part of the resettlement exercise, government would also provide regular veterinary services for the livestock to increase their production and avoid diseases on the animals.
On fishing, President Mahama gave the assurance that government would continue to absorb 30 per cent of the outboard motors for the fishermen adding that the Ministry of Fisheries would soon supply them with the machines to facilitate their activities.

He said government would also provide the fish processor Associations with Microfinance and small loans and aluminum pans to step up their activities, that would subsequently improve their living conditions

The President said the assistance formed part of government's resolve to make life comfortable for all Ghanaians irrespective of their geographical location, political affiliation or ethnic group.

Reacting to the appeals of the people, President Mahama said the Feeder Roads Department of the Ministry of Roads and Highways had assessed their deplorable roads and would soon embark on the rehabilitation of 17-Kilometre Sempoa-Abene road.

Nana Acheampong Siaw Darko, Chief of the area appealed to President Mahama to establish a Senior High School for the area on account of the long distance between them and Abetifi their constituency headquarters.
He said the long distance had discouraged many parents from sending their children for further education and placed high cost on those willing to send their children elsewhere.

The Chief said the poor nature of the roads in the area had rendered the people especially the traders vulnerable to the activities of armed robbers in the area and called on the President to treat their road issues as an emergency.

He also appealed to government to support the police there with a vehicle to step up their surveillance programme as a result of rampant armed robbery cases.
Source: GNA