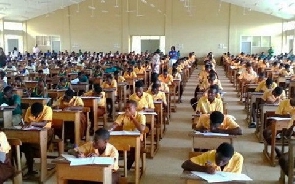 The Ghana National Education Campaign Coalition (GNECC) wants government to put out a concrete policy framework for the double track system it intends to roll out in September this year.
The Coalition contends its research conducted on the policy shows that it is likely to face a barrage of challenges should government go ahead to implement it without a stakeholders engagement on the best way out.

In spite of the many criticisms on the double track system, government maintains that it'll work smoothly, insisting that it has consulted widely on the programme.

Addressing a Press Conference on the issue,the Executive Council Chair of the Coalition, Bright Appiah said the policy is a public one and therefore demands broader consultation with the relevant stakeholders for their input.

"Indeed there'll be a need for government to put emergency plan in place to decongest all dormitories and then the classroom that we have,the multi-track system or the double track system to deal with the intake for this year in September. We as a Coalition believe that one of the issues that is making this for us to get here, has to do with government's inability to secure a reliable funding for the implementation of the Free SHS policy. In terms of communication, government has not been able to do well which clearly points to the fact that there is no clear cut policy for the implementation of it," he said.
Government has announced that it is set to roll out its double Tracking System which will be similar to the semester mode of learning applicable in the universities at the SHS level.

The objectives of the Double-track School Calendar are to create room to accommodate increase in enrolment, reduce class sizes, increase contact hours and to increase the number of holidays.