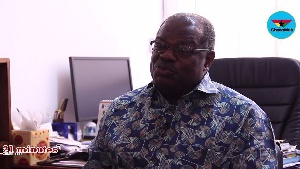 Professor Ernest Aryeetey, the Former Vice Chancellor of University of Ghana on Monday called for a targeted approach that would enable parents who are not poor to make substantial financial contributions in non-free Senior High School (SHS).
He said the education system should be possible to categorise schools depending on their endowments and conditions and set eligibility criteria and exempt schools that are not eligible from free status and as well provide scholarships to eligible students in non-free schools.

These according to the Former Vice-Chancellor were prudent in sustaining government flagship programme for SHS. Prof Aryeetey stated in Accra at the Graphic Business/Stanbic Bank meeting on Financing Free Quality Education in Ghana-Sustainable Funding Options".

He stated that improving the quality of SHS education would cost more money and that the state trying to do it alone would be problematic as it draws resources away from other essential investments required for structural transformation.

He was of the view that private participation including parents would provide an assurance of the sustainability as far as free SHS was concerned.

Prof Aryeetey expressed concern about the poor infrastructural investment for schools in the country, urging government to deal with the phenomenon through public private partnerships.
He stated that the public-private partnerships cannot be applied uniformly and that proper criteria would have to be developed to aid selection and monitoring.

He said access to basic and secondary levels of education had improved significantly, adding that increased access had not been matched with corresponding resources.

"To improve upon the country's educational system, government need to work on teacher supply and motivation especially in the rural areas", he added.

Mr Isreal Titi Ofei, the Principal, SOS Herman Gmeiner International College said the country's curriculum needs reform to conform to modern educational standard.

He stated that the country's educational curriculum be imbedded with the needed skills and attitude and must include good teachers, critical thinkers, problem solving students, service learning, creativity among others.
Mr Ofei suggested that government must include all available stakeholders including the private sector, philanthropy, blended financing, partnerships and clear accountability structures established by the regulator to ensure sustainable financing of the free SHS.

Prof Opoku Amankwah, the Director General of the Ghana Education Service said the introduction of the free SHS, established in 2017 was to prepare and equip the youth with aptitude for further and life-long education and employable skills for the world of work.

According to him, the rationale was to address inequality and ensures equal opportunities for all students through the removal of cost barriers.

Touching on giving opportunities to parents who can pay for their fees, Prof Amankwah said it all had to deal with honesty of people because most of the people who benefit from scholarships are the rich at the top to the detriment of the poor.

He explained that, the country need to change its attitude and be sincere to each other for government policy to work effectively.