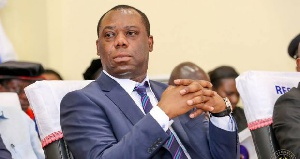 The government, through the Ministry of Education, has paid a total of GH¢62,606,403 to the National Food Buffer Stock Company (NAFCO) for food items delivered to schools by the various suppliers contracted through the company.
As part of the guidelines set out for the smooth implementation of the 'Free SHS' policy, boarding schools are to receive their supplies of non-perishable food items through the Buffer Stock Company under the Ministry of Food and Agriculture.

The company has been contracted to serve as an interface between suppliers and schools, with the sole aim of ensuring that quality and standard food products are supplied.
Presenting the cheque to the CEO of the company, Abdul Wahab Hanan, Coordinator of the 'Free SHS' Programme, William Antwi Darkwah, reiterated his call on heads of schools and suppliers that are yet to submit their returns to do so quickly in order to clear all payments due them.