Business News Tue, 27 Mar 2018
The government raised GH¢1.57 billion through the sale of a three-year bond in line with plans to raise a total of GH¢11.13 billion cedis for the first quarter of 2018.
The proceeds are to be used to refinance maturing debt and also finance some projects stated in the 2018 budget.

At an initial pricing of 15.5 percent and 16.5 percent, a total of GH¢1.57 billion bids were tendered by both resident and non-resident investors of which the government accepted all bids at a coupon rate of 16.5 percent.

The amount accepted was in excess of the intended target of GH¢900 million.

On short-term end of the market, yield on the 182-Day T-Bill dropped by a basis point to 13.9 percent this week, but the yield on the 91-Day T-Bill rose by two basis points to 13.36 percent.

The yield on the other treasury securities, however, remained the same.

At the auction, the GH¢459.12 million worth of bids tendered by investors were all accepted by the government.

In spite of this, total bids raised was below government's target of GH¢780 million for the week.

The 91-Day T-Bill dominated the government's purchases as it accounted for 84.79 percent of the total bids accepted.

At the next auction, the government anticipates raising GH¢339 million worth of both the 91-Day and 182-Day T-Bills and GH¢200 million of the one-year note.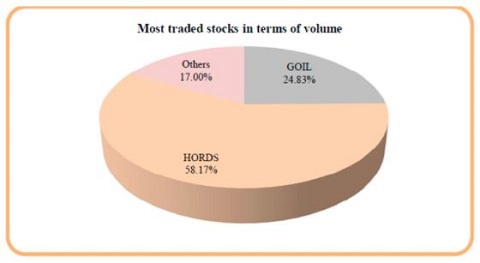 Stock market

The equity market, after three consecutive declines, managed to close on a positive note as renewed investor sentiment in financial and energy sector stocks provided support for the market.

The rising demand for shares of GCB Bank Ltd, Access Bank Ghana Ltd, Ecobank Ghana Ltd among other financial stocks saved the market indices from witnessing another weekly decline.

The release of earnings report of two financial stocks; CAL Bank Ltd and Enterprise Group Ltd also buoyed market sentiment to close the week's trading on a bullish look.

The GSE Composite Index thus rebounded by 1.59 percent to settle at an index level of 3,291.25 points, representing a year-to-date return of 27.58 percent.

GSE Financial Stock Index also upturned by 1.69 percent to close at 3,011.15 points. This corresponds to a year-to-date return of 30.32 percent.

Total trade

A total of 5.54 million equities valued at GH¢10.90 million were traded this week as compared with the.
Trading activities were dominated this week by Hords Ltd; it accounted for 58.17 percent of the week's total traded volume.

Market capitalisation also rose by 0.20 percent to settle at GH¢64,075.97.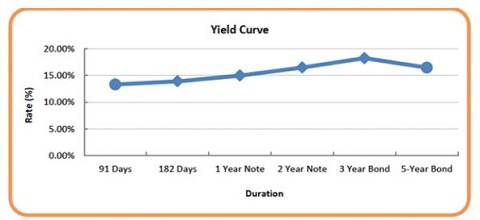 Price movement

A total of 12 equities made it onto the advancers list whiles five equities appeared on the laggards list.

GCB Bank Ltd topped the advancers with 76 gains to trade at GH¢6.01 per share. Total Petroleum Ltd and Ecobank Ghana Ltd rose by 25 pesewas and 18 pesewas to trade at GH¢5.20 and GH¢11.19 per share respectively.

Ghana Oil Company Ltd added 17 pesewas to settle at GH¢4.32 per share. CAL Bank Ltd and Benso Oil Palm Plantation Ltd also upturned by 7 pesewas each to close the week's trading at GH¢1.31 and GH¢7.15 per share respectively.

HFC Bank Ltd and Societe Generale Ghana Ltd upturned by five pesewas each to close at GH¢1.29 and GH¢2.11 per share respectively. Other gainers were SCB Bank Ltd, PZ Cussons Ltd, Mechanical Lloyd Company Ltd and Unilever Ghana Ltd.

On the downside of the market, Access Bank Ghana Ltd lost 47 pesewas to close at GH¢3.53 per share.
Fan Milk Ltd and Enterprise Group Ltd shed four pesewas and three pesewas to settle at GH¢17.48 and GH¢4.80 per share respectively. Aluworks Ltd and Ecobank Transnational Incorporated also went down by two pesewas and a pesewa to end the week's trading at 11 pesewas and 19 pesewas respectively.

Currency market

Trading ended on the interbank currency market with the Ghana cedi posting a strong recovery against the US dollar but depreciated against the two other major trading currencies.

The British pound shined after the close of the week's trading, posting its biggest weekly rise in six weeks.

The cedi thus depreciated by 1.61 percent to trade at GH¢6.24 per pound. The year-to-date depreciation of the cedi thus stood at 4.52 percent.

The US dollar was weighed on by investors' worries about the rising tension in global trade. The cedi thus took advantage of this development to upturn its year-to-date depreciation to the greenback. It gained 0.24 percent to trade at GH¢4.41 per dollar, at a year-to-date appreciation of 0.22 percent.

The Euro came on the defensive against a basket of currencies on the international forex market as downbeat macroeconomic data slowed demand for the currency.

The cedi thus traded at GH¢5.44 per euro, representing a week-on-week depreciation of 0.46 percent. The year-to-date depreciation of the cedi thus stood at 2.74 percent.

Commodities
Brent crude oil ticked higher to cross the US$70 mark in the week's trading. It rose by US$3.93 to trade at US$70.14 per barrel.

Gold climbed to a month-high after the close of the week's trading as the resurfaced global trade war clouded the market with uncertainties, making investors to shift their assets into safe-have commodities.

The yellow metal thus added US$35.30 to trade at US$1,347.60 per ounce.

Cocoa increased its value in the trading week due to production short fall from top growers in Africa. Cameroon Cocoa bean and products exports dropped by nine percent in February 2018 to 209,000 tonnes. The supply short fall thus lifted the value of the soft crop by US$45 to trade at US$2,569.50 per metric tonne.

Coffee was little changed as mixed expectations of growth prospects were reported in the trading week.

Coffee lightly advanced by a cent to close at US$1.18 per pound.