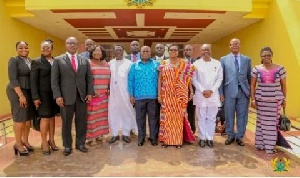 President Nana Addo Dankwa Akufo-Addo has observed that the public sector alone cannot be a source of funding for the infrastructural projects to be embarked on by his government.
According to him, funds would have to be raised from the private sector to fill the gaps.

He made this known at the inauguration of a nine-member board for the Ghana Investment and Infrastructure Fund (GIIF) at the Flagstaff House on Wednesday, April 5.

Among the members of the board are Solomon Asamoah, who is the Chief Executive Officer of GIIF, Tweneboah Kodua Fokuo, Yvonne Sowah, Kofi Boakye and Cecilia Gambrah. The chairman will be Professor Christopher Ameyaw Ekumfi.

President Akufo-Addo talked highly of the incoming board chairman, revealing that he is a "respected public servant, who has earned an enviable reputation, both in his work as an academician and a politician… [and he is] eminently qualified to act as Chairperson of the fund."

He said the CEO "is amongst the foremost specialists in infrastructure financing on the continent. He has been personally responsible for over $4billion in infrastructure investments across Africa, and has occupied senior offices in some of the continent's premier institutions".
The president acknowledged the financial constraints within the public sector, saying it "cannot, on its own, provide and finance all of our infrastructure needs".

"We have to mobilise the private sector to fill the gap. That is how we would be able to achieve our goals for infrastructure development. This is the principal objective of the fund, which is to accelerate economic growth." The Fund has been provided a seed funding of $250 million. This is expected to "leverage capital from other sources for the nation's infrastructure financing and development".

Returns on investments made are expected to lead to greater economic activity and job creation.

A special advisory committee chaired by the Minister of Finance and on which is the Governor of the Central Bank of Ghana was also inaugurated.