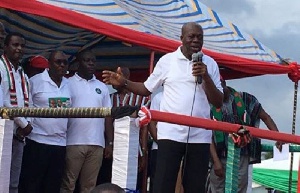 Vice President Kwesi Amissah-Arthur says the focus of the National Democratic Congress (NDC) government for the next four years is to increase cocoa production from the current 750 thousand metric tonnes to more than 1.5 million metric tonnes.
It is for this reason that government has so far distributed more than 60 million hybrid cocoa seedlings free of charge to cocoa farmers to replace aging cocoa trees.

Additionally, government will continue to increase the free distribution of fertilisers and chemicals to achieve the target.

Mr Amissah-Arthur said this on the last day of his four-day Central Regional campaign tour when he interacted with farmers in communities in the Twifo Atti-Mokwa constituency in the Central Region.

The Twifo Atti-Mokwa districts predominantly a farming community has been a stronghold of the ruling NDC since 1992.

Since 2009, the district has been undergoing unprecedented transformation in terms of development. These include a Community Day Senior High School, a 60-bed district hospital, numerous CHPS Compounds, roads and new classroom blocks fromKindergarten to Junior High school.
Additionally, government has so far spent 42 million cedis on cocoa roads in the area.

The Chiefs and people of Atti-Mokwa, Twifo Nyenase and Twifo Bimpong-Egya, therefore organised durbars to show their appreciation to government and to also make requests for other things.

The Krontihene of the Twifo Mampong Traditional Area, Nana Nkwantabisa, said they will continually be grateful to the NDC government for what it has done for them but appealed to President Mahama to appoint a Minister from the area in his next government.

Vice President Amissah-Arthur said for years, the NDC government has stood by farmers and it will continue to even do more for them.

Vice President Amissah-Arthur appealed to the people to continue to remain loyal to the NDC. He reminded them of the on-going projects that were abandoned by the New Patriotic Party (NPP) when the NDC lost political power in 2000.
The running mate of President Mahama therefore, emphasised the need for continuity in government as it has been demonstrated since the fourth Republican constitution was promulgated and operationalised that the first four year term is not enough for a government to complete its policies and programmes.

Mr.Amissah-Arthur said as a result, Former Presidents Rawlings and Kufuor all had two terms or eight years and President Mahama also deserves another term.

The Vice President introduced the NDC's parliamentary candidate for Twifo Atti-Mokwa, Samuel Ato Amoah to the people and asked them to vote massively to retain him.