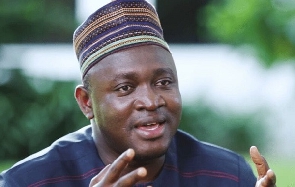 Suhuyini says regional tour by lands minister cost Ghana GH¢5.4 million
Dialogue on 'galamsey' in Accra cost over GH¢2million – MP

Galamsey is still happening and it polluting our what bodies – MP

Tamale North MP, Alhassan Suhuyini, has alleged that the government used over GH¢10 million on 10 national dialogues and conferences it organised to come up with measures to fight the menace of illegal mining ('galamsey') in the country.

Speaking on the floor of Parliament on Tuesday, Suhuyini said that such expenditure by the Ministry of Lands and Natural Resources just on dialogues and conferences was shocking and amounts to the misuse and misappropriation of the country's resources.

According to the MP (Member of Parliament), the ministry spent over GH¢ 2 million on national consultative dialogues in Accra, GH¢3.7 million on the dialogues in the northern and middle belt of the country and GH¢5.4 million on regional tours.

"Mr Speaker, what is interesting is that it cost the taxpayer GH¢ 2,140,000 to organise the National Consultative Dialogue in Accra, … the Regional Dialogues on Small Scale Mining for the northern and middle belt come up to GH¢3.7 million …. the regional tours that were engaged in by the minister and his appointees cost the taxpayer GH¢5.4 million.
"… all of these put together Mr. Speaker we are talking about more than ten conferences and dialogue and this is a document from the Ministry of Lands and Natural Resources during the consideration stage of the 2022 Budget statement. Mr. Speaker ¢10 million just on conferences and dialogue on how to fight Galamsey in this country. How does this impact the fight against 'galamsey' in the country."

The MP questioned the effect of the dialogues, saying that even though several good ideas come out of the conferences and dialogues, the menace of 'galamsey' is still happening in many parts of the country, polluting Ghana's water bodies.

Watch the latest episode of the Diaspora Link below: