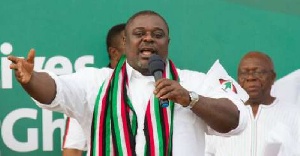 Wed, 13 Sep 2017 Source: Kweku Agyemang
Deputy General Secretary of the opposition National Democratic Congress (NDC), Koku Anyidoho, has taken a swipe at government over the implementation of the free senior high school education policy.
Speaking on Happy Fm's 'Epa Hoa Daben', the maverick politician posited that the official launch of the free SHS which was done by the president is half baked and does not represent the manifesto promise by the ruling government.

Koku Anyidoho laughed at the position held by some individuals who are praising government for the implementation of a half bake policy to deceive the populace.

He made a reference to a statement made by the president at Okwapeman Senior High School where the president reportedly promised to make education free from the kindergarten to SHS.

"Do we have the kindergarten? Do we have the primary? Do we have the JHS? Even the SHS being implemented is not what was promised Ghanaians. You are claiming that the free SHS has arrived but where is the free SHS?

When asked the official position of the NDC he said, the constitution of Ghana is explicitly clear on education and the free education has been in Ghana for a long time.
The late Nkrumah, he added, implemented free education in the North and other governments also did same.

"The NPP promised free from kindergarten to SHS. That was their promise so what are we talking about," he quizzed.

When reminded that the NPP stressed on free SHS during the campaign he said, the NPP is not living up to their expectations because they promised to offer free SHS to cover all students but today, only fresh students are benefitting.

The education policy under the NDC, he noted, was exceptional and unparalleled.

In an answer as to whether the policy would be a threat to the NDC in 2020, he said, ''it is a threat to their own existence. Their inability to implement it is what would be a threat to them. Their inability to implement it the way they promised, would be a threat to them.''
He went ahead to question why the NPP has failed to pay the DKM and God is Love customers.

''You people promised to do XYZ but you have failed woefully in delivering your own promises.''

He also took on his gun on the Education Minister Dr. Matthew Opoku Prempeh for "inciting" parents against head of schools who will ask students to pay PTA dues.

He insisted that the call will only create anarchy in our schools.

He has therefore challenged the president to come out and apologize to Ghanaians for deceiving them to vote for the NPP based on the free education policy.
The NDC he clarified will support any policy that will help boost the country's growth but will insist on quality and proper planning before such policies are implemented.




Source: Kweku Agyemang