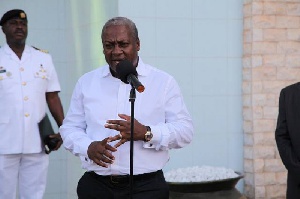 The runway of the Ho Airport is expected to be completed for its inaugural flight in November, President John Mahama has said.
In an interview with Volta Star FM in Ho on his day 5 of his campaign tour of the Volta Region, Mahama said, " the first part of the Ho Airport we are doing, is the runway. We expect the runway to be ready by November in order for us to make the first inaugural flight."

"Subsequent to that, the terminal will have to be finished. But the terminal won't be ready before November. But we expect the runway to be ready by then," Mahama said.

The new regional airport, which forms part of government's plans to construct an airport in every region, was initially scheduled to be completed by first quarter 2017.
The Ho Airport is being constructed with part of a US$150million loan sourced by the Ghana Airports Company Limited (GACL) on the strength of its own balance sheet. Part of the loan is also being expended on the rehabilitation of the Sunyani and Wa Airports.

Though some experts have questioned the economic viability of the project, President Mahama said the project in Ho is part of efforts to open up the region for economic development.

The Volta Region is the 7th most populous region in the country. Farming, fishing and tourism remain the main economic activities prevalent in the region.