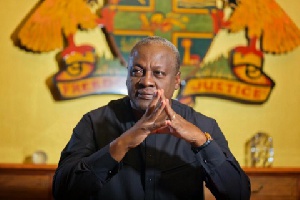 John Dramani Mahama, former President and the leader of the opposition National Democratic Congress (NDC), has already started promising Free Technical and Vocational Education.
According to the former President, his party's programme for TVET are "comprehensive and far-reaching."

"The free TVET programme would operate at all levels from the second cycle to tertiary. To be clear, students undergoing Technical and Vocational Education at the second cycle and tertiary level will pay no fees," the NDC leader wrote on Facebook.

John Mahama in his observation of the current Free SHS stated that "only 48 TVET institutions under the Ghana Education Service benefit from the Free SHS programme."

The remaining 240, he said, "have not been catered for, adding this is the critical gap my initiative intends to address."

"Additionally, we intend to realign all TVET institutions and firmly place them under the Council for Technical and Vocational Education and Training (COTVET)- an existing agency of the Ministry of Education," Mahama's post read.

To Mahama, the TVET programme has been well-considered to address two challenges.
"The first is to fix the imbalance and gap that exists between top and bottom level manpower requirements, especially those with technical skills. It is designed to produce a cadre of young people with cutting edge technical knowledge, which we are in need of in many sectors of our economy including the oil and gas sector.

The second challenge our TVET programme will help address is the worsening unemployment situation by providing our young people with the requisite skills set that enables them to chart a path of self-employment instead of only relying on government for employment."

But President Akufo-Addo in his State of the Nation's address on Thursday noted the government is trying to move the conversation to "Technical and Vocational Education and Training (TVET) becoming the instinctive choice for children at school."

"We are moving the conversation to ensuring that, when an institution is designated as a technical institution, it delivers technical courses. And, just in case I need to remind anyone, TVET has always been part of Free SHS, or, if you prefer, call it Free TVET," he said.