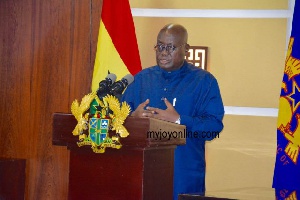 The Chief of Domeabra in the Greater Accra Region, Nii Kofi Lantei II has debunked media report that he would step down as chief if Nana Addo's promise of free senior high school does not come through.
According to him, his comments have been misconstrued. Explaining on Rainbow Radio 87.5Fm, he said ''I told the reporter that I will be possessed like a priest if President Nana Akufo-Addo is unable to deliver that promise. I never said I will abdicate my throne as reported.

He said politicians have deceived citizens for far too long and every election year, they make promises yet they fail on these promises. Nii Kofi Lantei II emphasized that, the free SHS is a good policy and will allow the poor to access secondary education, hence Ghanaians should support it.
''A lot of young children are unable to access secondary education because of financial difficulties and so if the president has promised to roll out a free education policy, then i think we should support him,'' he said.