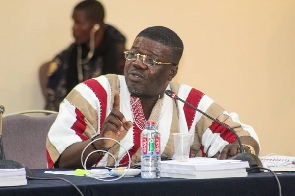 The Member of Parliament (MP) for South Dayi, Rockson-Nelson Dafeamekpor, has withdrawn his criticism of branch executives of his party, the National Democratic Congress (NDC), in the Ashanti Region.
In a tweet shared on Tuesday, May 23, 2023, after the results of the Kumawu parliamentary by-elections started trickling in, Dafeamekpor lamented about the number of votes the NDC candidate in the election was getting.

According to him, the results from some of the polling stations suggest that some of the branch executives of the National Democratic Congress did not even vote for the candidate of the party.

"The Kumawu results have poured in quick & fast. I was part of the Ashanti Reg Reorganization Project in 2022 but these Kumawu votes show we've to re-Audit our Register & Branch Executives.

"We've 9 Executives but has 3 & 4 Votes in some branches so where are our 9 NDC Executives?" parts of the MPs tweet said.

In another tweet shared on Wednesday, May 24, 2023, the MP apologised and said he got the figures wrong.
"This is to confirm that at Kumawu we didn't record 3 or 4 votes as I earlier on indicated. I apologize for that but the figures were still too low in places as compared to the great effort that went in," parts of the tweet read.

He, however, said that the results of the Kumawu by-election show that the NDC has more work to do if it wants to win the 2024 general elections.

"It means we must all work extra hard as Executives & PCs if we're to win 2024," Dafeamekpor added.

Meanwhile, Ernest Yaw Anim of the New Patriotic Party (NPP) emerged winner of the May 23 by-election in the Kumawu Constituency of the Ashanti Region.

He polled 71 per cent (15,264 votes) of the total votes cast to retain the seat for the ruling party. In a distant second was the National Democratic Congress candidate, Akwasi Amakwaa, who garnered only 17 per cent (3,783) of the votes.
View the MP's tweet below:


This is to confirm that at Kumawu we didn't record 3 or 4 votes as I earlier on indicated. I apologize for that but the figures were still too low in places as compared to the great effort that went in. It means we must all work extra hard as Executives & PCs if we're to win 2024

— Rockson-Nelson Dafeamekpor, Esq. MP. (@etsedafeamekpor) May 23, 2023
You can also watch the latest episode of People & Places:


IB/OGB