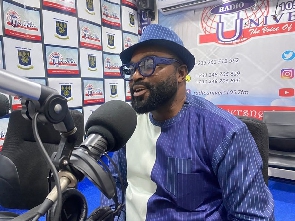 The Municipal Chief Executive (MCE) for Ga West, Clement Wilkinson, has stated that he has implemented a bye-law in his constituency to address the issue of animals causing damage to properties due to negligence from their owners.
According to him, his approach involves creating an animal cell where errant animals and their owners are detained, with the animals subsequently auctioned if the owners fail to pay a fine.

Speaking in an interview with Radio Univers on July 20, 2023, the MCE explained, "Unless you don't like reading, we have a chunk of laws for goats, dogs, and other animals.

"We have arrested goats, cows, dogs, and other animals. The thing is we don't just wake up and go and arrest such animals."

He explained that the process starts with residents lodging formal complaints at the police station, specifying the name of the animal's owner. The police will then apprehend both the owner and the animal involved.

However, due to the absence of animal cells in Ghana, the judicial process is often hindered, so based on that he has provided an animal cell in the constituency where offended animals will be kept.

"For instance, if you have a garden or a farm where you have planted stuff and if animals are worrying you, this is how we go about it, you will go and make a formal complaint at the police station and because it has to do with animals, you have to add the name of the owner as well.
"So, the police will arrest both the owner and the animals and take them to the police station and per the law, under normal circumstances, they are supposed to be taken to court within 24 hours but we don't have animal cells in Ghana so when they are taken to court and the Judge sentences them to prison, we won't get anywhere to take them to.

He added: "So I just have to look through my bye-law and make my own cells, so they don't even go to the court, right from the police station to my cells, so when they come to my cells then I give the owners a maximum of six days to come for their animals.

"I double their price for them but if they don't report after ten days, then I gather them and feed them for about a month, then I will announce that maybe tomorrow I am doing auctioning so anybody interested should come and buy …

"...if a thing doesn't have name it means that you can't auction it so I have to give them names like, Emmanuel, Edward, Akufo, Mahama, John, and others," he stated.

He added that the auctioning of these animals has reportedly generated substantial Internal Generated Funds (IGF) for the Ga West constituency.

"So maybe Edward GH¢20, 250, 300, then someone will come and buy, do you know that it has been giving us IGF that we have been using to paint our schools and other developmental projects?"
AM/SARA

Watch the latest episode of the Lowdown on GhanaWeb TV below:





You can also watch the newest episode of Legal Agenda on GhanaWeb TV below:

Watch the latest edition of BizTech and Biz Headlines below:








Share your news stories and ideas with GhanaWeb


To advertise with GhanaWeb