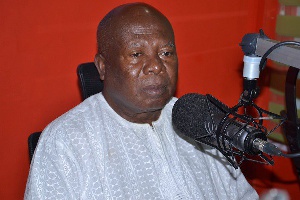 Dr. Kwame Amoako Tuffour, a founding member of New Patriotic Party (NPP) and former National Coordinator of the Ghana School Feeding Programme, has said he has no intention to destroy the Free SHS policy rolled out by the government.
The Free Senior High School (Free SHS) policy was one prominent campaign promise by the New Patriotic Party prior and during the 2012 and 2016 general elections respectively.

The National Democratic Congress (NDC) rejected the policy at the time saying, it needed to be implemented 'progressively' calling it 'progressive free Senior High School'.

However, the NPP led by Nana Addo Dankwa Akufo-Addo after winning power from the NDC did not adhere to the advice though some key members of the party hinted it should be made progressive in view of challenges.

Mr. Amoako Tuffour's comments response came after a report quoted him as saying, he wept once he visited Free SHS and was confronted with the challenges.
On Nhyira Fm in Kumasi on Thursday, he said people got him wrong on the issue, adding that, he was just trying to let know the limitations of the policy.

"Some people alleged that I spoke against Free SHS. No no no ……, I didn't speak against it. I'm confirming today that, 'Free SHS' is a bold step Nana Addo has taken. People will praise him (Nana Addo) for that. What I mean to say it that, if something goes wrong, we shouldn't use propaganda to destroy it. There are challenges in every policy implemented for the first time". He stated.

He appealed to Ghanaians to be patient and pray for the president as well for his good policies to be fulfilled.