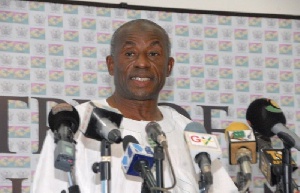 The junior brother of Collins Dauda Abdulai has threatened to deal with the New Patriotic Party's (NPP) Kennedy Agyapong should he set foot in Asutifi South.
According to him, Kennedy Agyapong threatened to let the NPP's invisible forces attack him on 7th December.

In an interview with Kwabena Prah Junior on Agyenkwa Fm's Agyenkwa Dawuro, the junior brother of Collins Dauda, Naba mentioned that they will beat Kennedy mercilessly should he step foot in Asutifi South describing Kennedy as a mad man who only rants unnecessarily.
"Who is Kennedy Agyapong to threaten me with death, we have been killing before he was born. I have killed human beings and I will finish anybody with bad intentions before his time "he concluded.