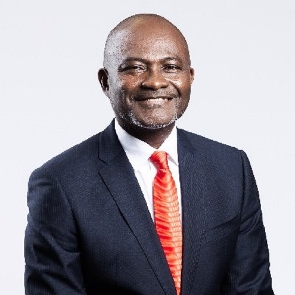 Flagbearer hopeful Kennedy Agyapong has stated again that he will easily defeat former President John Dramani Mahama in the 2024 presidential election.
As a result, the lawmaker who represents Assin Central constituents is pleading with party delegates to vote for him as their presidential candidate.

The outspoken politician declared that he has all it takes to easily defeat Mr. Mahama.

As part of his campaign visit, he addressed party delegates in the Bibiani Anhwiaso Bekwai Constituency.

Kennedy Agyapong brought this up on a visit to interact with polling station executives to appeal for their votes as the party's presidential election approaches.
He also complained that past and current party leaders had not treated polling station executives fairly, thus the need to bring him in as the grassroots man to end issues like "show your certificate, fill forms online" before they are given jobs after they have been used to canvass votes for the party's victory.

The MP, who could not reach Bibiani on time from Sefwi Akontombra due to the poor state of the road network, apologised to the delegates and vowed to fix the roads if elected president.

In his welcome address, the Bibiani Anhwiaso Bekwai Constituency Chairman, Hon. Kwame Asamoah (Kame Agege), stated that Hon. Kennedy Agyapong's quest to appeal for votes in Bibiani Anhwiaso Bekwai was a step in the right direction because he came down to Bibiani during the 2020 elections to support them to campaign and retained the seat for the party.