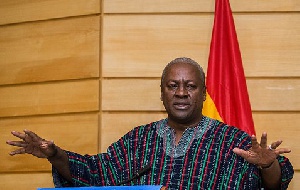 President John Dramani Mahama has reiterated his pledge to tackle the menace of corruption like never before in his next term in office when given the mandate to govern the country.
In a letter to his teeming supporters and Ghanaians in general dated November 7, 2016, the number one gentleman of the land said he will implement measures already proposed by policy makers and civil society organisations to make corruption unattractive in the country.

"In the coming years, I pledge to implement more robust interventions including the National Anticorruption Action Plan (NACAP) to make corruption unattractive and a higher risk activity," he noted in his five-page letter that was released in the Ashanti Region where he is expected to tour some communities in the coming days.

He said although the country has not been able to bring down corruption to an appreciable level, what his government and the governing National Democratic Congress (NDC) have achieved over the last couple of years is better than the opposition New Patriotic Party's (NPP) while in office.
"Transparency International, the world's most credible institution on anti-corruption matters has lauded the strategies we have adopted to fight corruption."

"Ghana is currently ranked as the 7th least corrupt country in Africa, and it is an established fact that the NDC's worst record in the Transparency International's anti-corruption league table, over the years, is better than the NPP's best record while in office," he stressed.