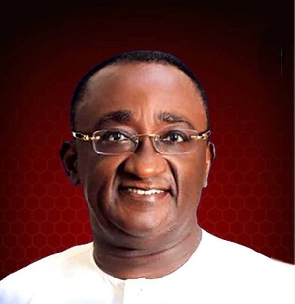 A flagbearer hopeful of the New Patriotic Party (NPP), Dr. Owusu Afriyie Akoto, has outlined a business strategy that is aimed at providing financial resources to the party to make it more robust to thrive in a globally competitive environment.
It involves setting of a chain of party-owned businesses at national, regional, and constituency levels to be managed by a holding company.

These businesses will generate revenue to run the party as well as provide gainful employment opportunities for its members to alleviate their plight.

In the view of Dr. Akoto, the strategy, which he christened 'Linking party to Government', is the best sustainable means of effectively managing the party at all levels.

The former Minister of Food and Agriculture made the promise while interacting with the party delegates from the Cape Coast South Constituency during his Central Regional campaign tour last week.

KMT of Taiwan

Kuomintang (KMT) or Nationalist Party of Taiwan amassed a vast business empire of banks, investment companies, petrochemical firms, and television and radio stations.

The party which is currently struggling financially was thought to have made it the world's richest political party at a point, with assets once estimated to be around $2 to $10 billion.

ANC in South Africa
Chancellor House Holdings is a private company committed to generating wealth through prudent and viable investment opportunities for Shareholders including mining and other assets of South Africa's African National Congress (ANC) Party.

However, it does not invest in companies that tender for any work or conduct procurement directly or indirectly with any RSA's National, Provincial and Local Government spheres, Government Agencies and State-Owned Entities.

RPF in Rwanda

Crystal Ventures, the Rwanda Patriotic Front's (RPF) holding company, has investments in everything from furniture to finance.

It owns the country's biggest milk processor, its finest coffee shops and some of its priciest real estate.

Its contractors are building Kigali's roads. There are several firms offering security services in Rwanda but the guards from ISCO, part of Crystal Ventures, are the only ones who tote guns.

The company is reckoned to have some $500m of assets.

Up to the late 80s, political parties owning businesses was common in several countries around the world.
Italian Communists

Beside recreational facilities, the Italian Communists run chains of stores, garment-manufacturing firms, travel agencies, and import-export agencies which handle a large part of the country's trade with Eastern Europe.

French Communist party

The French Communist party owns no fewer than 310 enterprises.

Social Democrats in Germany and Austria

The Bank Gemeinschaft in Germany and the Sparkasse in Austria are closely linked with those countries' Social Democrats.

Scandinavian socialist and communist parties

And the Scandinavian socialist and communist parties own travel agencies and quasi-commercial enterprises in the import-export area.
Israel

In Israel, parties publish daily newspapers, own their own publishing firms, have their own recreation movements and sports teams, own banks, housing projects, wholesale and retail co-operatives, control the largest sick funds including hospitals, and are the largest employers in the field of heavy industry through the trade-union-controlled industries.

While campaigning to become national chairman of the Party, Mr Freddie Blay promised to provide buses for constituencies to run commercial transport business to financially equip the party at the grassroot level to ensure that strong and effective structures are put in place.

Last year, Mr Blay revealed that 100 buses financed by a bank were brought into the country.

However, he said two of the buses were involved in accident while the remaining 98 are with STC which is using them to generate revenue to pay the party.

He assured that once the bank facility is fully paid, the party can then benefit from profits generated by the buses.

Dr. Akoto's plan for a holding company to manage a wide range of party business is more comprehensive and forward looking.

He is confident that when well implemented, it will go a long way in ending the sufferings of party members.
The former two-term Member of Parliament (MP) for Kwadaso, told the delegates that workers in all the party-owned businesses at the various levels will be party members.

Dr. Akoto urged the delegates not to put any premium on candidates who have been promising to pay salary to polling station executives and those also promising to give ten appointment each to all the 275 constituencies when they become flagbearer of the party and subsequently, as President of Ghana.

"Don't let anyone deceive you with a promise of paying you salary when elected.

"It is a fallacy. What I have outlined is sustainable and the best way to resource you financially.

"My vision is the best. It is globally accepted and is done in South Africa, Taiwan, Rwanda, and Israel among others.

Dr. Akoto said none of his competitors possess the means to address their plight better than him, stressing that "I have served the NPP well in all capacities and I feel your burden more than any other flagbearer hopeful. A vote for me will bring all these sufferings to an end because I understand what you are going through at the polling stations".

Dr Akoto's tour which began at Gomoa West constituency, took him to Ajumako-Enyan-Essiam constituency.

He was accompanied by two Co-campaign Chairmen, Alfred Boye, a former Greater Accra NPP Regional Chairman and Ken-Wuud Nuworsu, also a former NPP Volta Regional Chairman, the National Coordinator of the campaign team, Peter Oteng Darko and Campaign Spokesperson, Dr. Prince Sodoke Amuzu.