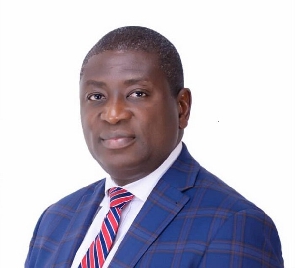 Aspiring presidential candidate Kwadwo Poku claims he is the one the nation's youth want as their president.
He was confident of passing the vetting process and rising to become the presidential candidate.

Speaking to journalists ahead of his vetting, he stated that he was prepared for his vetting and was ready to answer any questions.

He stated that it was the vetting committee's responsibility to assess the abilities of the aspiring candidates and determine whether they were qualified to run for president.

He added that the committee will also assess the ability of the aspiring candidates to lead the party.

In doing so, he posited that the party will consider the criteria as well as whether the candidates are qualified to be elected.

He meets all of the criteria for being elected as the NPP's presidential candidate.
He claimed that the candidates who picked up nomination forms to run for office were qualified and that it was up to the vetting committee to vet them.

When asked what his position would be if he were disqualified and whether that could mean there had not been a level playing field, he said, "I do not expect that to happen, but there are also processes for redress. If the committee believes you have not answered a question satisfactorily and does not recommend you, there is a redress process in which you can appeal to the national executive council and then to the national council".

He was confident that the vetting would be fair because the committee members are all experienced NPP members.

He said, "I started this process last year in February, and with all the support I have across the nation, it shows that I am the one the youth of this nation are looking forward to as their president".

He indicated that he would be among the shortlisted candidates and the ultimate winner of the presidential primary.