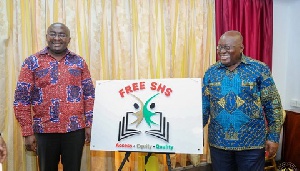 Samuel Baah, Project Coordinator of Ambassadors of Free SHS, a Volunteer group has denied campaigning for President Akufo-Addo in Senior High Schools insisting he has proof that he's not engaging in partisan politics.
According to him, his initiative is only centered on motivating beneficiaries to optimize the opportunities under the Free SHS programme.

"There is nothing wrong with what I'm doing, I motivate the students through my meager salary" albeit he admits, "there is no approval from the Ghana Education Service(GES) concerning my initiative.

He added: "I don't carry out duties on behalf of GES/Free SHS Secretariat neither do I speak on behalf of the GES.

He continued:" The over three months that I've sent a correspondence to the Ministry of Education, maybe this is the best time to get their attention and approval"

The opposition NDC has expressed displeasure over a video recording in which a man purported to be an Ambassador of government's flagship Free SHS policy is seen actively campaigning at a secondary school.
In a communique, the NDC Communications Officer, Sammy Gyamfi said:

"The attention of the National Democratic Congress (NDC) has been drawn to a video in circulation on social media, in which a person who identifies himself as an "Ambassador of Free SHS", is seen at a Senior High School engaging in vigorous political campaign for the ruling New Patriotic Party (NPP) relative to the upcoming 2020 General Elections.

In that video, the gentleman who is clad in a T-shirt with the inscription "Free SHS Ambassador" boldly embossed on it, could be heard indoctrinating a gathering of young SHS students to campaign to their colleagues and parents to vote for President Akufo-Addo in the 2020 General Elections," the party said in a statement signed by Director of Communications, Sammy Gyamfi.

The statement added: "We in the NDC are appalled and disgusted by this act of political desperation on the part of the Akufo-Addo government, especially at a time when the Ghana Education Service claims to have outlawed all politically-related activities on the campuses of Senior High Schools.

Meanwhile, the Education Ministry has denied sanctioning such exercise in the Senior High Schools by the gentleman and his group indicating it'll probe the matter.