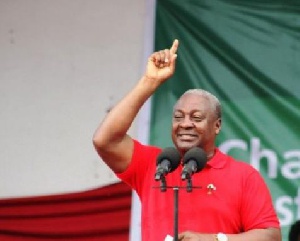 President John Dramani has underscored the need for Ghanaians to retain him in the upcoming December 7 election as President of the Republic of Ghana.
An elated Mahama addressing residents in the Brong Ahafo region as part of his five day tour said, his achievements over the last four years, are unparalleled hence, the need for him to be retained.

President Mahama posited that, every government that performs well in his first four year term should be given another four year term to continue with his transformational agenda.

He said, i have performed extremely well as president and because of that, my party has elected me as candidate to represent them in the 2016 presidential election. I came here to ask you if i deserve another four years and from what i see, i don't think i have to ask that question again, because victory is mine.

We are going into an election this December and as president and candidate representing my party, i want you to vote massively for me. In humility, i have to tour all the regions to account to you and to also ask for your votes this election year.
You have to vote for me again to continue with my good works.'' He continued, ''Development is a process and Rome was not built in a day, i have done so well over these few years and that is an evidence that, if I m retained, i will do much more. My predecessors have done their part and i have done mine as well.

When you travel across the length and breadth of this country, you will realize that i have done so well.'' Using a car owner as an analogy, he said, no car owner in his right frame of mind will hand over his vehicle to an inexperienced driver when he already has an experienced one.

He said, his good works has earned him much respect and building on these achievements in his second term will not be difficult for him. He expressed strong optimism that he will win the election. I have no fear because i know that by the grace of God the NDC will win this election.