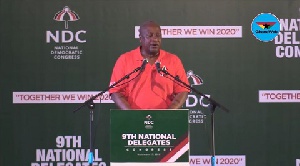 President John Dramani Mahama has revealed that he is an Nkrumahist at heart and that originally he belonged to the Convention Peoples Party (CPP), the party birthed by Ghana's first president Osagyefo Dr. Kwame Nkrumah.
"I grew up as an Nkrumahist, I still am an Nkrumahist," Mahama said in an interview on the sidelines of the just ended Munich Security Conference over the weekend.

"My actual first political orientation was CPP. So, I joined NDC when it was formed," he told host Wode Maya who was discussing a wide range of issues with the former president.

Mahama's political roots date as far back to the days of Ghana's independence when his father served in the Nkrumah government.

He is reputed to be one of the most thoroughbred politicians of the Fourth Republic having served from the local level (Assembly) through to becoming a Member of Parliament for Bole Bamboi on the ticket of the National Democratic Congress.

Mahama held deputy minister and ministerial portfolios under the Rawlings government before rising to become vice president under John Mills and president when he took over from Mills then won his first full term in 2012.
He is widely expected to contest for the presidency come 2024 as he seeks a final term in office on the back of two straight defeats to President Nana Addo Dankwa Akufo-Addo in 2016 and 2020.

You can also watch this episode of People & Places here:



SARA