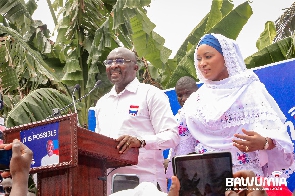 Vice President Dr. Mahamudu Bawumia has positioned himself as the finest contender to represent the New Patriotic Party (NPP) as a presidential candidate.
The aspiring candidate stated that he was the best and most qualified of the ten candidates competing, including himself.

The economist and former governor of the Bank of Ghana stated that he has been the running mate four times and Vice President for two periods and knows the ground better than the others.

He claimed to know every corner and to have slept in all 275 constituencies in the country, thus there was no corner he didn't know.

The Vice President went on to say that he has worked hard and sacrificed everything for the party and the country as a whole.

He claimed to have been present and defended the party even when others were unwilling to do so.
Dr. Bawumia stated that of all the candidates running, he is the one the NDC party fears the most; therefore, their party delegates should vote for him to lead them into the 2024 elections, and he will not fail them.

Dr. Alhaji Mahamudu Bawumia stated this during a meeting with the Constituency Delegates of the Anyaa Sowutuom NPP ahead of their impending presidential primary at Pentecost University College, and he encouraged them to vote for him when the time came.

"When you look at all of the candidates, I am the most experienced." I have visited each of the 275 constituencies. I have not visited any constituency. I am the most knowledgeable. Dr. Bawumia is always willing to defend the NPP. I have made sacrifices for this celebration; I have attended this party.

"I was there for the party when it required someone to represent it during the 2012 presidential election petition. In court, I was the one who sacrificed the NPP.

"I was there, despite the embarrassment and problems that came with the petition. Some were approached, but they claimed to be outside of Ghana."