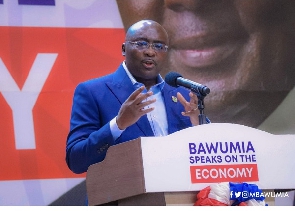 Vice President Dr. Mahamudu Bawumia who is seeking to lead the governing New Patriotic Party (NPP) into the 2024 Presidential Election has stressed that as the second gentleman of the country, he has done a lot to advance the development of the country and shall achieve much more when he becomes President of the country.
Dr Bawumia rejected claims by the opposition National Democratic Congress (NDC) that the NPP Government led by President Akufo-Addo had not done enough to merit a third term and that the party had no campaign message for the voting public.

He explained that the achievements of the NPP despite global challenges were evident and that his own achievements as Vice President are a testament to why he is seeking to lead the NPP and by extension the country.

"Do not let anyone deceive you that we have no message for the 2024 election…At least, I can be remembered for the implementation of the National Identification System, Mobile Interoperability, the Digital Address System, the Zongo Development Fund, the Gold for Oil policy, among others.

"If I have been able to achieve all these as Vice President, imagine what I can do when I become President with your support," he said.
He lashed out at the NDC for being critical of the NPP but having no policy that has impacted the generality of the Ghanaian populace like the policies of the NPP.

Dr Bawumia is a leading contender in the flagbearership race of the NPP which has 10 aspirants in total. He faces stiff competition from former Trade Minister Alan Kyeremanten and maverick Member of Parliament (MP) Kennedy Ohene Agyapong.

Dr. Mahamudu Bawumia served as the Co-Chair of the Economic Policy Coordinating Committee under President Kufuor, Key member of the Government's Technical Negotiations team for HIPC in 2001. The team that negotiated 4 billion dollar relief for Ghana that helped President Kufuor stabilize the economy, the Chairman of the Capital Markets Committee that made Ghana the first post-HIPC country in the world to access the international capital markets, and a key member of the team that implemented the redenomination of the cedi, Ezwich and the Bank of Ghana's inflation targeting framework.