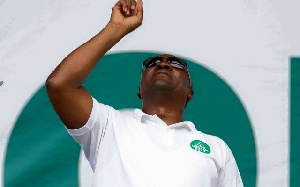 President John Dramani Mahama has assured citizens that the government is poised to transform Ghana into a country that will be held in high esteem on the African continent.
Mr Mahama explained that his administration had laid the foundations for infrastructural development in his first term as president pending further growth if Ghanaians renewed his mandate.

"In the next four years, we are going to transform this country into a country that the whole of Africa will respect," he promised on Tuesday, October 18 as he addressed party supporters at Nkwanta in the Volta Region on the second day of his five-day tour of the region.

President Mahama said he was not surprised at the way his opponents were attempting to downplay his efforts at building a strong country since the same treatment was meted out to Ghana's first president Dr Kwame Nkrumah.

He refuted allegations that he was misapplying the country's resources as he insisted that investing in the infrastructural sector was key to spurring development and economic activities.

According to him, infrastructure like roads, hospitals, and schools remained very key to improving the conditions of citizens and felt it was rather wrong for his opponents to label them as money wasting ventures.
But the chairman of the Infrastructural Committee of the New Patriotic Party (NPP), Joe Ghartey, did not agree with Mr Mahama.

Mr Ghartey argued that the erstwhile John Agyekum Kufuor administration invested in the sector to spur development but the National Democratic Congress (NDC) had failed to build on that feat and rather reduced investment in the sector.

According to him, "in real terms, the country has seen a decline in infrastructural expenditure from an average of 11.5 per cent of GDP between 2001 and 2008 to 5.7 per cent of GDP between 2009 and 2015".

He revealed this at a news conference in Accra on Tuesday, October 18, to emphasise the NPP's resolve to reverse the downward trend in government expenditure in infrastructure.

Even though the Mahama administration touts various achievements of investment in that sector, Mr Ghartey maintained that "it is estimated that this year [2016] it will only be 4.2 per cent of GDP".
According to him, the NPP had devised a comprehensive plan which would revive the sector.

He indicated that the plans include a national asset protection project, an interconnected roads, railways, ports and harbours and aviation hub, a water-for-all programme, and flood control and coastline protection.

Others include mainstream ICT and an affordable housing programme.

He maintained that the weakest link in Ghana's development remained under-developed roads, railways, ports and harbours and aviation.