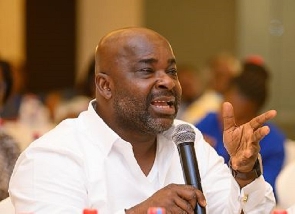 The Member of Parliament (MP) for New Juaben South, Micheal Okyere Baafi, has announced his intention to use a chunk of his share of MP's Common Fund to pay for the school fees of his constituents.
Speaking to some of the polling station executives, he said because human development was at the heart of the progress of any society, he will use the allocated funds for developmental projects within the community to educate the youth of his constituency.

Traditionally, the Common Fund, distributed by the government, is intended to facilitate developmental works within the constituency, with some percentages allocated for education, and health among others.

The New Juaben lawmaker said educating the youth would be a good starting point so he will invest more in the constituents' education.

He thus encouraged the constituents to submit written requests for their children's school fees, assuring them a minimum amount of GHC1,000 per student.

"What I want to use [the Common Fund] for is that the constituents that are present here, I will use it to pay for your children's school fees.

All constituents who wish to benefit from this initiative should submit a written request. We will ensure that each applicant receives a minimum of GHC1,000. This is our way of enhancing education," he said.
AM/SARA

Watch the latest episode of The Lowdown:





You can also watch this episode of People & Places here:




Share your news stories and ideas with GhanaWeb




To advertise with GhanaWeb