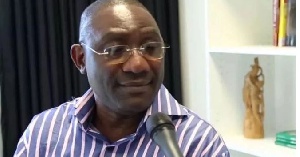 Samuel Crabbe, the suspended Second National Vice-Chairman of the New Patriotic Party (NPP) has referred to about 80% of the members of the party as 'sycophants'.
According to him, most of these people are close to President Nana Akufo-Addo "…with time, they will burnout like charcoal, because it will come to a time when they will need people who can deliver," he stated, when interviewed on Starr Chat by Bola Ray.

Mr Crabbe went ahead to say that John Boadu's appointment as acting General Secretary of the party was a breach of the party's Constitution, as there was no such description.

"There's nothing like that…in our Constitution," he said. "It is better for people to shine their eyes, open them up and look at things", he added.

In December 2015, the National Executive Committee (NEC) of the NPP in December 2015 affirmed the decision of the party's Disciplinary Committee (DC) to suspend its Second National Vice-Chairman, Sammy Crabbe and the General Secretary Kwabena Agyei Agyepong.
Crabbe countered by stating that the decision was illegal, and therefore took the matter to an Accra High Court. His suit was however dismissed in the year 2016.

The judge, Justice Sir Dennis Adjei, stated that the DC of the party had the right to hear the matter and also institute punitive measures against anyone who was found guilty of breaching the rules of the party.

Crabbe however maintained his stance, arguing that the decision of the party was illegal.