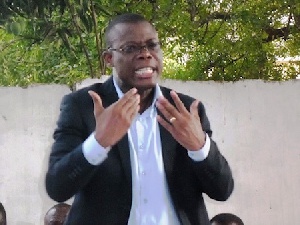 Minister for Transport, Fifi Fiave Kwetey, has told supporters and sympathizers of the governing NDC to overlook the numerous campaign promises being made by the 2016 presidential candidate of the NPP, Nana Addo-Dankwa Akufo-Addo.
Such promises, he noted, are all lies, stressing that he knows Nana Akufo-Addo very and would not honour such promises when voted into power.

He said the NPP is a 419 political party which if voted into power to govern the country, would spell doom for the West African nation.

"The NPP is a 419 party because what they do is just 419. All that they are promising to do when voted into power are lies," he stressed.
He made this remark when addressing the 'Akatamansonian' family at the campaign launch of the honourable MP for North Tongu, Samuel Okudzeto Ablakwa, at the Aveyime Lorry Park on Sunday, October 23, 2016.

Mr. Kwetey who is also the MP for Ketu South in the Volta Region continuing, urged the people of North Tongu to hold on to their belief and vote massively for Mr. Ablakwa and President John Dramani Mahama in the December 7 polls.

"They are promising that when they come to power, every youth will get a job. That is 419. So, my brothers and sisters, don't go and sell your gold for and get wood," he cautioned.