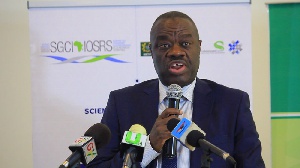 Ibrahim Mohammed Awal, Minister for Business Development has called on corporate Ghana to incorporate skills development and job/internship placement for graduates into their Corporate Social Responsibility (CSR) activities.
He said this would help support government's priority areas of job creation and bridge the gap between industry and academia.

Speaking at the Ghana CSR Excellence Awards (GHACEA 2018) in Accra, Mr. Awal stated: "CSR Policies must be in line with government priority areas.

"I want us to consider job placement as a key component of CSR. Real job experience is important for them to compete," he noted, adding that, the next GHACEA awards should also look at how many graduates companies have been able to place in internships.

He also urged companies to ensure that they communicated their CSR policies clearly and effectively in order for stakeholders and beneficiary communities to understand the policies.

"It will also help other companies and organisations to follow suit; it's very important," he added.
Mr Awal commended the 2018 GHACEA winners for their efforts in CSR saying, they had demonstrated that they looked beyond profit-making to improving society.

Dr Yaw Adu-Gyamfi, President of the Association of Ghana Industries (AGI), stressed that the duty of developing a nation was not solely the responsibility of government but rather a collective work.

"It is us, you and I, who have to develop Ghana and that's why it gladdens my heart that we as a people and companies like yours, are trying to do our bit to make Ghana a better place for everyone to enjoy," he stated.

Ms. Maki Osawa, Senior Representative of the Japan International Cooperation Agency, JICA Ghana; reiterated JICA's committed to empowering the private sector and helping it to reduce waste, improve quality and maximise bottom lines through the National Kaizen Project and other private sector interventions by JICA.

Winners at this year's GHACEA were: CSR Award for Greening and Environmental Protection – Unilever Ghana, CSR Award for Health – MTN Ghana, CSR Award for Safety & Well-being – Guinness Ghana, Agrobusiness of the Year – Nyonkopa Cocoa Buying, CSR ICT Company of the Year – Huawei Ghana, CSR Hospitality of the Year – Accra City Hotel, CSR SME of the Year – Nyonkopa Cocoa Buying, CSR Award for Education – Vodafone Ghana, CSR Award for Production Standardization – Unilever Ghana, CSR FMCG of the Year – Guinness Ghana, CSR Insurance Company of the Year - Prudential Life Insurance, CSR Manufacturing Company of the Year – Guinness Ghana, CSR Telecom Company of the Year – MTN Ghana, CSR Practitioner of the Year – Gabriel Opoku-Asare, CSR e-Commerce of the Year – QNET, CSR Initiative of the Year – Ghana Garden and Flower Movement, CSR Company of the Year- MTN Ghana and CSR CEO of the Year- Yolanda Cuba of Vodafone Ghana.
Mr Robert Kuzoe, Senior Manager, Sustainability and Social Impact at MTN Ghana, which won three awards, said the company's CSR activities had undertaken about 10 initiatives in the year under review, impacting many lives.

He added that MTN would continue to roll out interventions in health, Education and economic empowerment.

Mr. Kojo Williams, Lead Project Manager of the Centre for CSR, West Africa noted that the Awards scheme sought to encourage companies to do more for society by putting a spotlight on their socially-beneficial activities to inspire others to emulate same or do even better.

Centre for CSR West Africa, is the sub-region's leading CSR and Sustainability organisation. The Centre develops CSR and sustainability plans for corporates, organises training courses on CSR and Sustainability in collaboration with major universities, organises the National CSR & Sustainability Conference and the Ghana CSR Excellence Awards.