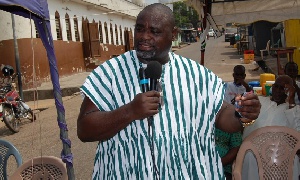 The debate about who becomes deputy minister for Tourism seems not to end soon. Another name that has popped up is Ghanaian talented veteran actor Oscar Provencal.
Persons within the creative arts industry for the past weeks have been advocating that the president, Nana Addo Dankwa Akufo-Addo, must nominate someone within the creative arts to support Catherine Abelema Afeku, because they feel the minister-designate is not directly involved in the creative arts. Names like Socrate Sarfo and Kojo Antwi have come up as abled possible assistants to the minister-designate.

Surprisingly, others also think Oscar Provencal is the best person for that position. In a telephone interview with Onua 95.1 FM's Emmanuel Agyemang, Oscar Provencal said "this is a big decision in somebody's life, one has to look at all the considerations, as a patriotic Ghanaian.

If the president calls, whatever we can do we will do it, be it a role of a deputy minister, it can be considered".

Oscar Provencal also thinks "it's good to have somebody who is knowledgeable about the industry". "However, it does not take away having somebody who is not in the industry but has the capacity, [the person is] competent, smart, intelligent, somebody who can unite, mobilize, good human relation, skills etc. But there is an added edge when you have somebody who is from the industry and knows the industry."
Oscar Provencal became popular with his detective role he played in the popular local series "Inspector Bediako".

In 1996 he was featured in Deadly Voyage a television film directed by John Mackenzie and written by Stuart Urban.

Produced by Union Pictures and John Goldschmidt's Viva Films for joint distribution to BBC Films and HBO Films.