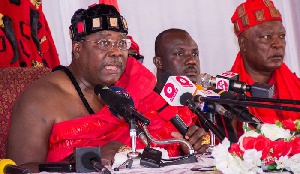 Oblempong Nii Wetse Kojo II, Paramount Chief of Ngleshie Alata Jamestown in Accra, has commended the double track system being implemented by the Akufo-Addo administration, pledging to support the policy by building schools in the community to augment government's efforts at providing quality education for all.
Speaking at a press conference at the St. Margaret Mary Parish in Dansoman, Accra yesterday, Oblempong Nii Wetse Kojo II outlined his vision and plans to ensure the socio-economic development of Jamestown.

Nii Kojo II disclosed that he would make Jamestown and the towns and villages under the stool the envy of all with regards to education.

"It is in my plans to build Jamestown Basic Schools, Jamestown Senior High Schools, Jamestown University and Jamestown Vocational Training Schools in the satellite villages and towns," he stated, adding that he would institute scholarship schemes to assist indigenous brilliant but needy students.

The traditional ruler indicated that given the history attached to fishing in Jamestown and its environs and taking into consideration the recent technological advancements in the fishing industry, he would establish a Fishing Training School to educate the youth and fishermen on modern methods of fishing to keep the trade alive and vibrant.

He also hinted that he would provide the fisher folks with an ultramodern cold storage facility which would be accessible to the general public at a central point to preserve their catch for the day.
Nii Wetse Kojo II also touched on other areas of concern to the inhabitants of Jamestown.



He assured the gathering that he would spearhead a weekly clean-up exercise in the community and provide the necessary tools while engaging a volunteer taskforce who would be trained by the Youth Employment Agencies for effective management and monitoring of the sanitation situation which would ensure compliance by households in the community.

According to the chief, a medical centre for the aged which would also serve as a screening centre for members of the community would be set up in due course to provide the older folks with free health care, adding "Identified indigenes above the age of 65 will receive monthly stipends to make life more bearable."

Nii Wetse Kojo II said tourism is an area where Jamestown has the potential of excelling.


To this end, he would push for the refurbishment of the old harbour and development of the beach front into a world class recreational area, as well as assist in the rehabilitation of old buildings.

Under his watch, he would set up a Jamestown radio station which would help in the preservation of the cultural heritage of the Jamestown community by coming up with the right contents.

He added that the Mantse Agbonaa, which has been a place of recreation for football and other sports lovers, would undergo renovation to transform it into a modern, multipurpose sports center.