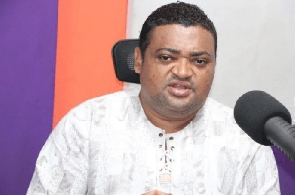 An aspiring National Organizer of the opposition National Democratic Congress Joseph Yamin has suggested that 2020 flagbearer of the NDC and former President John Dramani Mahama has achieved more for Ghana than Kwame Nkrumah, the nation's founder.
Mr. Yamin was addressing an opposition student wing gathering TEIN.

"If you ask me comparatively, years by years, I can confidently tell you that His Excellency John Dramani Mahama is ahead of the achievements of Dr. Kwame Nkrumah," Mr. Yamin told the TEIN students.

Mr. Yamin compared projects executed by both Presidents Mahama and Kwame Nkrumah.

"Nkrumah built harbors right under John Dramani Mahama Takoradi, Tema [ports] were expanded and ships that could not land at ports built by Dr. Kwame Nkrumah today can land under John Dramani Mahama. It is an achievement," He explained.

"If you talk about schools, under John Dramani
"Mahama, under a good professor 200 secondary schools in 4 years. 123 completed some others by Nana Addo Dankwa Akufo Addo left to the mercy of the bush." He added.

Mr. Yamin was reacting to Sir Sam Jonah who said he wants to be like Kwame Nkrumah. He called out Mr. Jonah for double standards.

According to Yamin, in terms of comparison between Kwame Nkrumah and John Mahama, Sam Jonah should have rather said he wants to be like Mahama of the NDC.

"What did Nkrumah stand for as a president. If you are mentioning Dr. Kwame Nkrumah [may he rest in peace], you are talking about developments. At this point, I was expecting people like Sam Jonah who criticized the NDC and wished that the NDC will never be in government to at this particular point in time accept the fact that they were wrong."

"If today you want to be like somebody I think the best person to cite himself will be John Dramani Mahama because whatever Nkrumah stood for John Dramani Mahama stands for the same thing. A government that comes 4 years and will undertake projects like this…if you are looking for somebody to be like you shouldn't go back to 40 years back because there are people who are still alive and have done if not similar then better than what you are trying to do," he declared.